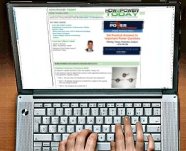 You Too Can Write for How2Power Today
by David G. Morrison, Editor, How2Power Today
Have you ever wanted to submit an article to an electronics publication, but didn't know where to start? Submitting articles to the How2Power Today newsletter is really quite easy. We accept articles on a wide variety of topics. The main requirement is that the proposed article address an existing design challenge in power conversion, while providing information that may be of practical use to working engineers.
Different Types of Design Articles

Articles submitted for publication may be about any of the following subjects:

A power converter circuit for a specific application (for example, automotive, computing, industrial, motion control, lighting, etc.)


A power converter circuit for a specific class of power supplies or power supply stage (for example, dc-dc converters, dc-ac inverters, PFC boost converters, motor drives, etc.)


A specific power converter topology (for example, flyback, forward, SEPIC, half-bridge, etc.)


Power supply control methods (for example current-mode control, hysteretic control, PWM hard switching or resonant switching, digital loop control)


Various aspects of power supply design (magnetics design, thermal management, EMI, stability, reliability, noise performance, transient response)


Power supply design simulation or test and measurement issues


Component related issues concerning power supply ICs; power rectifiers, MOSFETs, and IGBTs, power modules, capacitors, resistors, inductors and transformers, heatsinks, circuit protectors, batteries, etc.


Regulatory requirements such as Energy Star and their impact on power supply design.
Articles may discuss the design of a power converter for a specific application, or for a particular class of power converters (such as dc-dc converters), or a particular topology. Or they may deal with specific aspects of power supply design such as control methods, magnetic design, thermal management, efficiency, transient, response, EMI, etc. Articles may also address test and measurement issues or simulation issues, reliability, regulatory standards, or environmental requirements. A look at the categories and subcategories listed in the How2Power Design Guide may help you to identify even more topics you might write about. The possibilities are almost limitless (see "Different Types of Design Articles" and "Hot Topics in Power Conversion").
Hot Topics in Power Conversion

Certain timely issues are sure to generate reader interest. Some examples are:

Hybrid electric vehicles
Renewable energy systems such as solar and windpower
Power factor correction
Silicon carbide devices
Magnetics design
Energy efficiency standards and regulations
Both Long and Short Articles Are Welcome
When a contributed article is published in How2Power Today, only a summary appears in the How2Power Today email newsletter. That summary links to the full article, which appears at the How2Power.com website. Consequently, there are no hard and fast rules for how long the article should be.
Contributed articles for How2Power Today may be long or short, ranging from a few hundred words with one or two figures, up to much longer articles with thousands of words and a dozen or more figures. Those figures may include block diagrams, schematics, graphs, tables, photos, and screen shots. Your article may have many figures and just a little text, or mostly text and few figures---whatever works for the content you are presenting.
What's typical? There probably isn't a typical article. It all depends on the material and the scope of the article. However, as a print magazine editor, I normally asked for authors to aim for about 2000 words and 5 figures. Although those numbers were based on space limitations in the magazine, that length was sufficient for many design articles. But keep in mind, articles published online don't have those space limitations.
Begin by Submitting a Draft of Abstract
If inspiration has struck hard and you have eagerly written a draft of your article, you may start by submitting that. Email your draft to me at david@how2power.com. I'll review what you've written, and then contact you with any questions or concerns I may have about the material. If changes are in order, I'll give you instructions on what to add, take away, or modify. I'll work with you to provide a deadline that suits your schedule. I'll also provide some simple instructions on how to submit the final manuscript, once it is completed. If only minor revisions are needed to your draft, I may schedule it right away for publication in the newsletter. Otherwise, I may wait to receive the final manuscript to determine when it will be published.
Abstracts are Preferred
Although it's fine to submit a draft, a more-efficient approach is to start by submitting your article idea in the form of an abstract. An abstract can be as simple as a one paragraph description of what topic you'd like to write about and why the information may be of interest to readers of How2Power Today. In other words, what design challenge will your article help engineers to address? In your abstract try to say what new information will be presented in your article, or if the information is not totally new, how your presentation of the information gives it particular value.
As with a draft, send your abstract to me at david@how2power.com. After reviewing your abstract, I'll contact you to discuss it, and if it's appropriate for How2Power Today, I'll give you some guidance on completing the article and simple instructions on how to submit the final manuscript.
Let's Discuss It
Whether you are submitting a draft or an abstract, please include your phone number so I can contact you directly. A short conversation over the phone can speed up the article development process versus the back and forth of email.
Don't be Shy
Even if you're not sure that your article idea is appropriate for How2Power Today, submit it anyway. If your article is not a good fit for the newsletter, I may be able to suggest other publications that may be interested in publishing it.
The Benefits of Writing
My first boss as an editor was fond of quoting Dorothy Parker, who once said, "I hate writing, I love having written." Sure, it may be a little work to take your special knowledge of power circuits, systems, and applications and distill that knowledge into words, sentences, and paragraphs for others to share. But there are many incentives to do so.
Presenting your ideas and discoveries in power conversion can:
Distinguish you and/or your company as specialists in a particular area of power electronics or a related area


Promote the use of new technologies or products


Help solve existing challenges in power conversion by starting a dialogue with others working in a particular area


Generate feedback on new ideas


Help you to network with potential collaborators, suppliers, or customers


Help you to network with potential employers.
Some companies also provide monetary incentives to their engineers for writing articles. If your employer does, take advantage of that enticement. But whether or not they provide a bonus for writing, you're likely to reap some of the many other benefits of publishing your ideas. So, start thinking about the power conversion article that you'd like to write. Your fellow engineers are interested in what you have to say.
Points to Remember When Submitting Article Proposals

Any article that addresses a design challenge in power conversion is relevant
Design techniques and solutions presented in articles should be practical for working engineers.
Articles may be long or short.
Authors may submit their article proposals in the form of an abstract (preferred) or a draft.
Include your phone number with your article proposal so the editor can call to discuss your article.