DC-DC Converters for Space Applications
This section presents information and resources to help designers select and evaluate rad hard dc-dc converters for space applications such as satellites and spacecraft. This section covers both fully functional dc-dc converter modules as well as power ICs. Resources for designing rad hard dc-dc converters are also referenced here.
Where to find dc-dc converters and related power ICs for space applications
A source list of manufacturers offering rad hard dc-dc converter modules, voltage regulators, and related power ICs with details about what they offer. View this manufacturers list.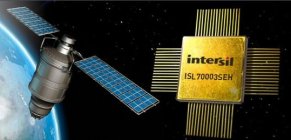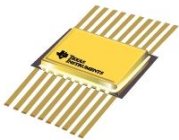 Images above courtesy of Intersil, IR HiRel, VPT and Texas Instruments.
News about rad hard dc-dc converter and related products
Rad-Tolerant GaN FETs And Fast Half-Bridge Driver Target Satellites
Press release announces Teledyne e2v's launch of a GaN power solution consisting of GaN FETs from GaN Systems and what's called "the industry's first rad-tolerant, half-bridge power driver for GaN high-reliability applications" from PSemi. This introduction continues the recent string of announcements about GaN power semiconductors for space applications. (See the NSREC news and other articles in this section.)
Read the article»
Rad-Hard GaN Devices Propel Space Power Supplies To Higher Performance
News story in How2Power Today describes Renesas Electronics' (formerly Intersil) ISL70040SEH low-side GaN FET driver, ISL7023SEH 100-V GaN FET and ISL70024SEH 200-V GaN FET, which were being introduced as the space industry's first radiation-hardened, low-side GaN FET driver and GaN FETs for launch vehicles and satellite power supplies.
Read the article»
Power Supply Sequencers Are Rad Hard
Press release announces the ISL70321SEH and ISL73321SEH quad power supply sequencers for point-of load (POL) regulators that power high-performance FPGAs and complex, multi-rail power systems. When the company previewed these chips at NSREC 2017, it described them as the industry's first radiation-hardened power supply sequencer ICs. (See "More Power News From NSREC 2017" below on this page.)
Read the article»
Rad-Tolerant Plastic ICs Support Small Satellite Mega-Constellations
Press release announces a rad-tolerant plastic IC package and the first three parts introduced in this package. These parts include the ISL71001M 6A point-of-load regulator and two non-power components, a 3.3-V CAN transceiver and a 40-V quad precision op amp. Intersil has a long history in providing rad hard components, so the introduction of the less stringent rad tolerant devices in plastic packaging represents a new approach for them in addressing the cost-sensitive small satellites market.
Read the article»
NSREC 2017 Highlights Latest Rad Hard Power Components For Space
This is How2Power's preview of the power parts that will be shown at the NSREC 2017 conference in New Orleans. It includes rad hard (or rad tolerant) power supply ICs and modules for space applications, including a soon-to-be-released GaN FET Driver with GaN FET and other GaN transistors.
Read the article»
More Power News From NSREC 2017
This is How2Power's post-conference report on the NSREC 2017 expo, providing news on more of the rad-hard or rad-tolerant dc-dc converters, point-of-load converters (POLs), LDOs, power MOSFETs and other components that were shown at NSREC 2017. It includes news of a rad-hard power sequencing IC, which may be the first of its kind.
Read the article»
DC-DC Converter supports 42-V and 50-V power busses
Development of Radiation Hardened Gallium Nitride Power Conversion Systems for Satellite and Harsh Environment Applications
Press release announcing partnership between Freebird Semiconductor and Efficient Power Conversion (EPC) wherein Freebird will develop products for use in high reliability space and harsh environment applications based upon eGaN power transistors and integrated circuits.
Read the article»
40-W Radiation-Hardened 120-V Input DC-DC Converters For Satellite Power Systems
Press release for IR Hi Rel's M3G120 Series of 40W rad-hard dc-dc converters for a wide range of digital and analog satellite power systems requiring up to 15 years or more of mission life.
Read the article»
High-Rel Dual-Output DC-DC Converters Target Satellite Power Systems
News story in How2Power Today described International Rectifier's D Series of low-power radiation-tolerant two-output dc-dc converters.
Read the article»
Rad-Hard Power Converters Ride Intermediate Bus Into Space
This feature from How2Power Today describes the rad-hard dc-dc converters and point-of-load converters (POLs) for space that were introduced at the 2012 NSREC conference. While this story is a few years old, keep in mind that products developed for this market have long life cycles.
Read the article»
Find articles on designing power converters for:
Other space power resources:
Extensive Reference Explores Every Aspect Of Space Power
Spacecraft Power Systems, Mukund R. Patel, CRC Press, 2005, 691 pages, hardback; ISBN 0-8493-2786-5.
Reviewed by Dennis Feucht, Innovatia Laboratories, Cayo, Belize
This book is intended for those in power electronics interested in spacecraft power systems. While this is not a new publication, references such as this are somewhat rare and the concepts discussed are ones that have been developed over decades of spacecraft development. So this book remains relevant and informative. For those power system developers working in other fields and unfamiliar with space requirements, this book may be an eye opener as it sheds light on a set of environmental challenges that are literally and figuratively, out of this world. Read the full story…